The 6 Best Restaurants In Mallorca with a Great view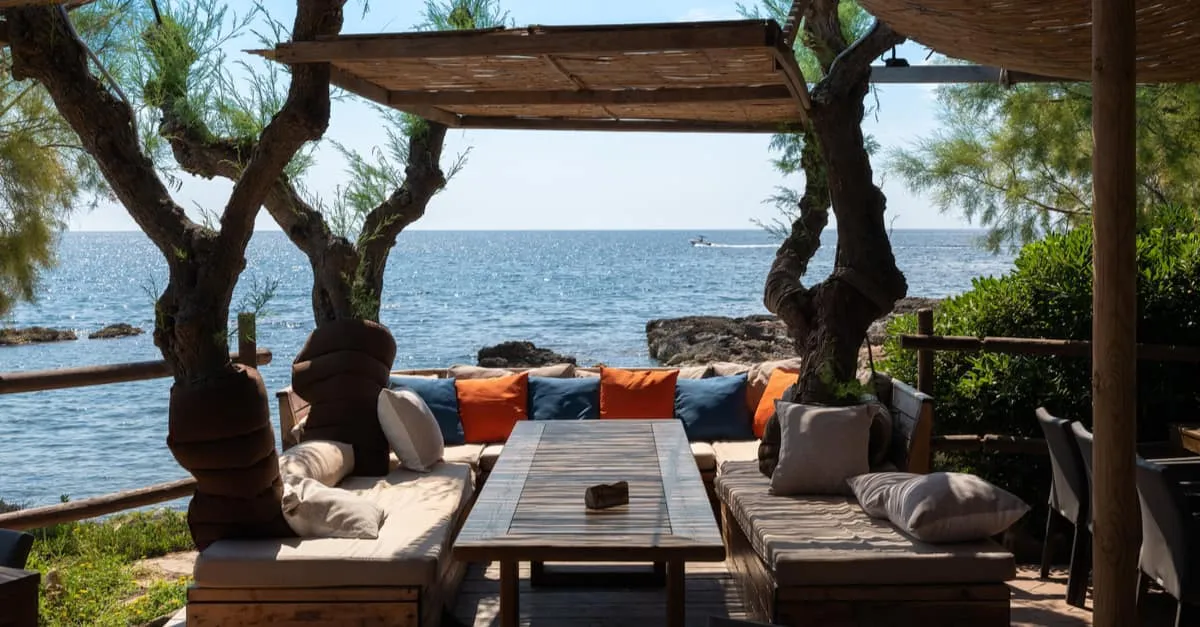 Find out incredible restaurants in Mallorca with the best views:
Es Mirador de Monnaber
A Popa
Rosa del Mar
Katagi Blau
Mirador de Cabrera
Béns d'Avall
6 Restaurants to eat in Mallorca with an amazing view
If you are visiting Mallorca, enjoy the best local and international cuisine in front of a view is a must. So, don't miss the opportunity to check our ranking of the best restaurants on the island with a beautiful view.
Es Mirador de Monnaber
Incredibly, the first restaurant we are going to recommend is not a sea-view place. Instead, Es Mirador de Monnaber, a restaurant placed in the Monnaber Nou Hotel on Sierra de Tramontana, has one of the best mountain view in Mallorca.
This place offers a friendly atmosphere, and has a terrace from which you can see all the island natural inner beauty. On the menu, you will find traditional dishes such as artichoke pie, or the famous ensaimada. The quality of the food combines perfectly with a kind service that will make out of your meal an unique moment.
Es Mirador de Monnaber's location and phone.
A Popa
A Popa is a part none other than the Nixe Palace, a five stars hotel right on the heart of Cala Mayor. From all the different places to eat in this hotel, A Popa not only has the best view just over the beach, but also has the best food. All this together makes this Mallorca's restaurant an unbeatable option to enjoy a meal.
In this place, you will find delicious tapas and dishes to discover the flavour of a wide range of local products. No matter if you prefer meat or fish, A Popa has a suitable excellent option for every preference.
Rosa del Mar
Next to Palma's pier and with a wonderful sea view, Rosa del Mar is the place to go if you wanna be suprised by a restaurant. Its vanguardist dishes mix ingredients from all around the world and combine them in new and incredible ways.
Combinations that not only work in a delicious way but also have enabled Rosa del Mar's chef, Tito Verger, to get some important awards. One of them, from the Repsol Guide, one of the most valued in Spain. Trying the lamb dumplings or the chocolate oyster are experiences not to be missed.
Rosa del Mar's location and phone.
Katagi Blau
If you would like to enjoy one of the more beautiful sunsets of Palma's Bay while enjoying real asiatic food, you should go to Katagi Blue restaurant. Placed on top of a building that looks to the Mediterranean, it is difficult to enhance its sea view from 8 to 10 pm in the summer.
Furthermore, this restaurant has a menu where asiatic food mixes with local products in a perfect match. A match that has allowed this place to win 2 times the award for the best asiatic fusion cuisine in Europe.
Katagi Blue's location and phone.
Mirador de Cabrera
This restaurant is said to have one of the most beautiful terraces in Mallorca. The owners of Mirador de Cabrera are proud not only because they can offer an unique atmosphere, but also a food based on seasonal ingredients and respectful with traditional island flavours.
This restaurant is located in Vallgonera, on the south of Mallorca. This is a quiet area in front of the infinite sea, a view that every customer of the restaurant can contemplate while enjoying a prawn ceviche or the traditional almond cake. Clearly, one of the restaurants with a better sea view on the island.
Mirador de Cabrera's location and phone.
Béns d'Avall
Just in the middle of the Sierra de Tramuntana, Béns d'Avall is a restaurant with more than 50 years of history. In all this time, this place has proven to have both one of the best sea view from its terrace and, also, a menu with real balear gastronomy. Indeed, they get the vegetables of their dishes from their own garden.
Their cooking includes traditional culinary techniques shown in dishes like the marinated fish, the local bullabesa or homemade milhojas. To all of this we should add a friendly service, which results in one of the best restaurants with a view in Mallorca.
Béns d'Avall's location and phone.
Have you already chosen which one of the best restaurants in Mallorca suits you better? Find your perfect view and enjoy the meal!
Noticias de Illes Balears
Anuario Guía